If you wish to escape from city life or the tensions of the concrete jungle, or to have a relaxed and safe holiday then this is the place for you to come and hang up your hat.
Our location, here next to the beautiful Sundays River Estuary, can easily be described as peaceful, beautiful, tranquil and safe.
We believe that this area is the Gateway to the Addo Elephant National Park once the coastal and marine sections of the park are better known.
Cannonville/Colchester was a very busy place in the mid 1800s and early 1900s, due to the only pont/punt on the main route between Grahamstown and Port Elizabeth, ferrying people, oxen, carts and food across the Sundays River.
The original remains of the pont are still visible on the western banks of the river near the N2 bridge in Cannonville. The pont sank in 1874, having been washed away down the river during a great storm. In 1875 a new and bigger pontoon was launched.
Two months later, this pontoon was also taken down the river after the river rose suddenly and was not used again. It took a battle of 35 years to get the Government to build a proper bridge across the river. The bridge was commenced in 1884 and opened on 5th March 1895.
It was named the Mackay Bridge, in honour of John Mackay who's efforts resulted in its construction. This bridge was constructed at a cost of 14 000 pounds and made entirely of steel and iron brought all the way from Sheffield in England.
---
We (Maggie & Les) moved to Cannonville in January 2006 and are ecstatic to have found this little jewel on the golden banks of the Sundays River.
With a dream come true, Les also committed himself to establish a ferry cruiser on the river and on the 14th April 2007 THE SUNDAYS RIVER FERRY was launched. Come and enjoy a leisurely cruise both up or down stream to the river mouth. Enjoy the spectacular views, river, sea and dunes.
We also do sand sledding for old and young. Visist www.addocruises.co.za and see what experiences you can have on the river.
To promote tourism and to be able to accommodate all our guests with warmth and a friendly welcome, we uphold and abide by our motto: Where Strangers Become Friends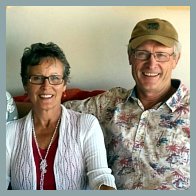 WE WELCOME YOU !!!!!